our service
What is a Fluoride Treatment?
Fluoride is a mineral that occurs naturally in all water sources, including the oceans. Research has shown that fluoride not only reduces cavities in children and adults, but it also helps repair the early stages of tooth decay, even before the decay is visible. Fluoride is the best cavity fighter to help keep the whole family's teeth strong. Fluoride is extremely useful in preventing cavities and making teeth stronger.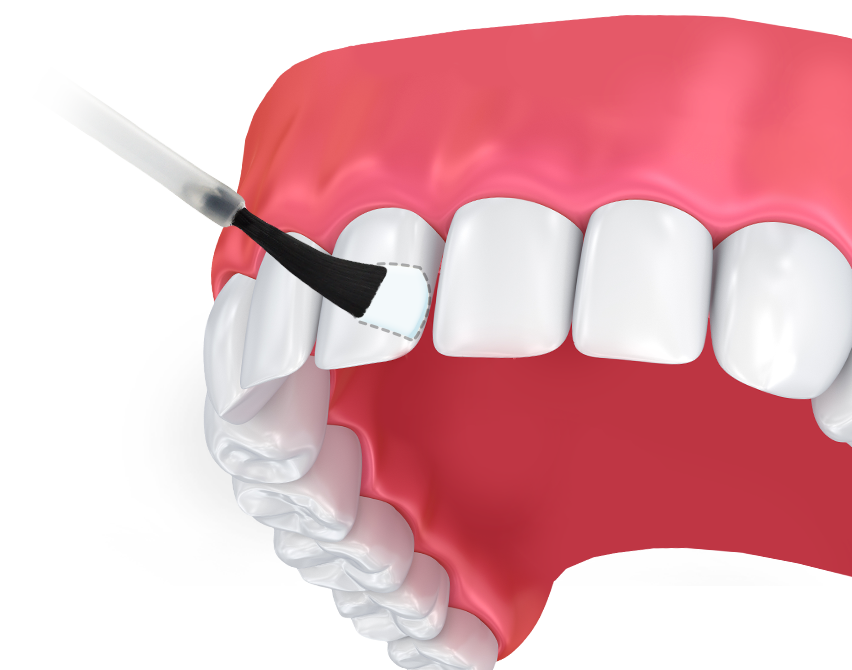 How does Fluoride Work?
Topical fluoride strengthens the teeth making them more resistant to decay. Topical fluoride comes from using fluoride containing dental products such as toothpaste, mouth rinses, and gels.
Systemic fluoride strengthens teeth that have erupted as well as those that have not. This is ideal for children who are still developing their teeth. We get this type of fluoride form the foods we eat and drink.
learn more
Fluoride Treatments
How Does Fluoride Strengthen Your Teeth?
When it reaches your teeth, fluoride is absorbed into the enamel. It helps to repair the enamel by replenishing the lost calcium and phosphorous to keep your teeth hard. This process is caused remineralization. When fluoride is present during remineralization, the minerals deposited into the tooth enamel help strengthen your teeth and prevent dissolution during the next demineralization phase. Thus, fluoride helps stop the decay process and prevent tooth decay.
How are Fluoride Treatments Done?
Fluoride treatments received in a dental office have more fluoride than over-the-counter fluoride mouthwash or toothpaste. They are used for both children and adults. Fluoride treatments done in a dentist office are different chemically and stay on the teeth longer.
There are two common types of professionally applied fluorides. Acidulated phosphate fluoride (APF) is acidic; neutral sodium fluoride is not. Neutral sodium fluoride usually is used for people who have dry mouth or who have tooth-colored fillings, crowns or bridges. An acidic fluoride may irritate a mouth that is dry. It also can create small pits in tooth-colored plastic composite fillings.
Fluoride is applied as a gel, foam or varnish during a dental appointment. The teeth are dried so the fluoride doesn't become diluted. Fluoride gel or foam can be applied by using a tray that looks like a mouth guard for one to four minutes. Fluoride varnish can be painted directly on parts of the teeth that are most likely to get a cavity, to strengthen them. This is an advantage of varnish over gel or foam. Varnish also contains a very strong concentration of fluoride. Topical fluoride comes in a variety of flavors, but it should never be swallowed.
Why are Fluoride Treatments Needed?
Sometimes patients are not having enough fluoride exposure to ensure their teeth are protected. The dentist or dental hygienist may recommend the use of home and/or professional fluoride treatments for the following reasons:
Poor oral hygiene
Sensitive tooth and root surfaces
High sugar and carbohydrate diet.
Low exposure to fluoride
History of decay
Low saliva flow as a result of medication or medical conditions
Fluoride Treatments and Benefits
Fluoride treatments can help in strengthening your teeth. They can prevent further development of tooth decay. Fluoride, per se, is an occurring element found in water sources. It can also be obtained from some foods, like fish, eggs, tea, etc. In some areas in the world, fluoride is added to water sources. Other brands of toothpaste and professionals treatments contain a high amount of fluoride for maximum protection.
Fluoride Supplements: They are usually given to patients. But these are not recommended to adults. Rather, they are given to children who are 6 months to 16 years old.
Risk of Tooth Decay: Anyone can be at risk of tooth decay. However, your risk is higher if you have already a history of cavities. If you do not visit your dentist frequently or if you have poor dental hygiene, then you should consider getting fluoride treatments as your risk of tooth decay is significantly high. Frequent snacking also encourages demineralization and puts you at risk of tooth decay.
If you take medicines for high blood pressure, anxiety or depression, your teeth may be filled with cavities as these drugs can cause dry mouth. And if your mouth does not have enough saliva, your tooth decay worsens quickly.
Time to Schedule Your
Dental Appointment
Need a dental bridge or crown?
We can get you scheduled quickly with Dr. Collins.
what we do
Exceptional
Service
Excellence in dental care is a must for you and your family. Our team stands out because we provide you a first-class experience with the personalized, gentle care that you deserve. We strive to gain your trust and will deliver quality in all aspects of our dental services and treatments. So, call us today, we think you'll love it here – almost as much as we'll love having you.
testimonials
What Our Clients Say
" Over the years my dentist has helped me overcome my fear of going to the dentist and fear of the pain. He is very patient, calming, takes time to explain things so I can understand them and has a sense of humor which helps me. I like my hygienist and the rest of my support staff. "
" Over the years my dentist has helped me overcome my fear of going to the dentist and fear of the pain. He is very patient, calming, takes time to explain things so I can understand them and has a sense of humor which helps me. I like my hygienist and the rest of my support staff. "
" Over the years my dentist has helped me overcome my fear of going to the dentist and fear of the pain. He is very patient, calming, takes time to explain things so I can understand them and has a sense of humor which helps me. I like my hygienist and the rest of my support staff. "